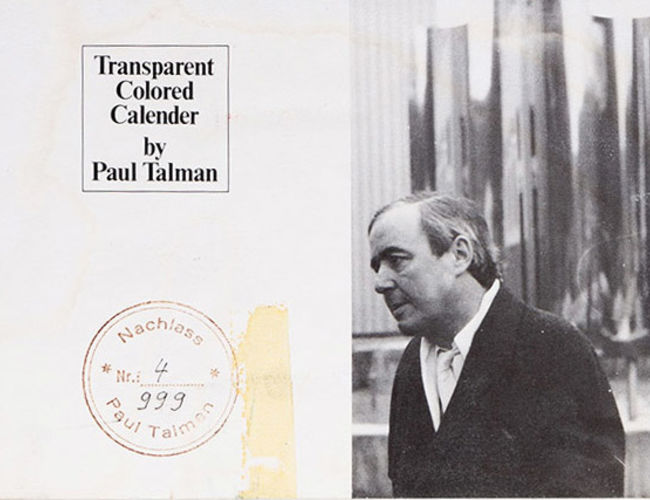 Paul Talman
1932
Born in Zurich.

1949
First abstract works.

1955
Produces his paintings in series as engravings on acrylic glass.

1960
Creates his famous "roller paintings" and "spherical paintings" as kinetic objects, which bring him worldwide attention.

1961
Major solo exhibition "Bewogen Beweging" at the Stedelijk Museum in Amsterdam.

1962
Becomes a member of the Groupe de Recherche d'Art Visuel (GRAV), Paris.

1964
Moved to the United States and spent some time at the Massachusetts Institute of Technology. In the United States, he designs furniture for KNOLL International.

1965
Another important exhibition takes place at the Byron Gallery in New York.

1968
Invited to the 4th documenta in Kassel with four of his kinetic "spherical paintings".

1973
Moved with his family to the former castle of Ueberstorf. Here he maintained his relationships with many well-known artists, such as Daniel Spoerri, Jean Tinguely or Dieter Roth.

1987
Dies in Ueberstorf.